Central FM's 2018 Golf Tournament
Central FM
CENTRAL FM's 2018 GOLF TOURNAMENT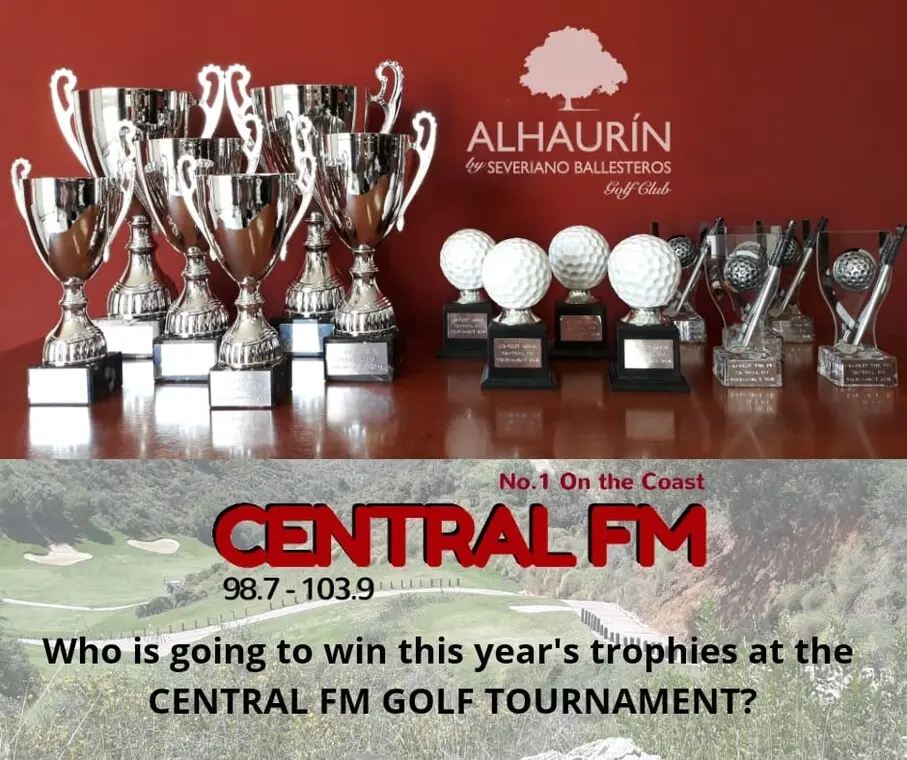 Central FM Radio celebrated 2nd Golf Tournament in June 2018 with a fabulous Golf Tournament which was held at Alhaurín Golf, a beautiful golf course designed by legendary Severiano Ballesteros.
Sponsored by FORD GARAGE VICTORIA, ARCOPLAN, LIBERTY SEGUROS and KUDAMM RESTAURANT the event was a huge success with first, second and third place winners plus 5 nearest the pin trophies and 4 longest drive trophies, sponsored by DaFano's Italian Restaurant, Martin's Hair and Beauty Lounge, Fredericks Bar Bistro, Rubi Restaurant,Oasis Dental and Apollo. The players also enjoyed a refreshment at Hole 13 with the DeVERE GROUP
All the players enjoyed a fabulous PAIRS TEXAS SCRAMBLE tournament followed by a wonderful 3 course lunch and a fun free raffle draw with over 50 prizes for the players, plus an auction!
First place winner trophies went to Anthony Dunlop and Simon Hoffman, second place Eddy Robertson and partner and third place to Andy Brown and Reid Hagroom. Nearest the pin winners were John Gale (who won 2 tropies), Kenneth Anderson, Elly Van Camping and Eddy Robertson and longest drive winners were Mitchell Byrnet, Simon Hoffman and Shami Dinami ( who won 2 trophies).
On Hole 12 Central FM Sponsored their nearest the pin by giving away a 40 inch TV. It was won by Eddy Robertson who asked Central FM to auction the TV off to raise money for the children's home in Málaga, Ciudad de los Niños. There were many other items donated for auction to raise money. Massive thank you to everyone who helped by donating their prizes to help raise funds.
The Central FM team had a great time (just missing out on a trophy) with Andy Little, Steven Burns , John Gale and Danny Ford and all looking forward to the next one!
Central FM would like to thank all the sponsors and all who took part. Also the staff at Alhaurin Golf who were simply brilliant and very professional. And a special thanks to Anthony Dunlop, the new Director who helped with the organizing of teams and prizes. We are certainly looking forward to the next tournament.
Also many thanks to Jessica Brown Garcia for the events photographs.
To see photos from the tournament click here.