Central FM 4 Ball Tournament 2019
Central FM
CENTRAL FM 4 BALL TOURNAMENT 2019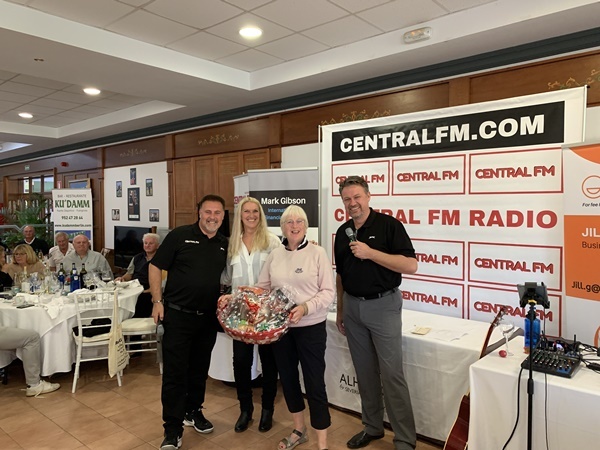 November saw Central FM try something a bit different, a 4 ball scramble at Alhaurin Golf! Sponsored by Mark Gibson Financial Adviser and JIll Gregory from Currencies Direct, the tournament was another huge success.
Trophies, free raffle draw and live entertainment with Fade Out Duo, who sing in both Spanish and English.
The winners were Kieran Moloney, Dean James, Andrew Whitney and Jorgen Olsen.
Second place trophies went to Alan Holtham, David Retallack, Nigel Smith and Marc Slinkert
Third place was won by Michael Brown, Alexander Walsoe and Ulrike Hatcscher Pohly.
Nearest the Pin hole sponsors were Smartmove Marbella, Spence Clark Chartered Accountants, Costa CBD, Salon Varietes Theatre in Fuengirola and Martin's Hair and Beauty Lounge in the Gamonal in Benalmádena.
Winners for Nearest the PIn were Miguel Angel Blanco, Hadyn Brown, David Garrido, Michael Browne and Andrew Whitney!
Longest drive sponsors were the Ku Damm Restaurant in Fuengirola and Ye Ole Butchery in Alhaurin el Grande.
Winners were David Garrido and Caron Hillier on Hole 9 and John Gale and Elain Thomas on Hole 16.
A huge thank you to the sponsors, all the staff at Alhaurin Golf, Fade Out Duo, Ian McElroy the photographer and of course the players for supporting these tournaments.